[Please scroll down for English]
Visą 2021 m. lapkričio mėnesį menininkės iš Lietuvos ir Jungtinės Karalystės kvietė Šilainių gyventojus dalintis patirtimis, istorijomis, anekdotais, dainomis, receptais, eilėraščiais ir visais kitais jiems svarbiais dalykais. Vyko garso įrašų kūrimo sesijos, ekskursijos ir garso dirbtuvės. Buvo paskelbtas atviras kvietimas audio turiniui ir kuriami "įvietinti" audio įrašai. 
Kuriant įrašus dalyvavo patys įvairiausi Šilainiuose gyvenantys, dirbantys ir besisvečiuojantys žmonės, todėl įrašuose bus galima išgirsti kaimynus, mokytojus, bičiulius ir įvairių Šilainiuose įsikūrusių bendruomenių atstovus. Šių žmonių istorijos ir pasakojimai pynėsi į giją, kuri tapo įvairialypiu audiniu, atskleidžiančiu šios vietos unikalumą.
"Šilainių radijas" – tai vietinių apylinkių ir čia gyvenančių žmonių šventė. Šis projektas sujungė Šilainių istorijos fragmentus ir vietinių gyventojų balsus bei jų patirtis per ekskursijas, dirbtuves ir asmeninius audio įrašus, kuriuose užfiksuota gyvenimo Šilainiuose dvasia," – teigia viena iš projekto sumanytojų menininkė Samantha Lippet.
Gruodžio 3 d. norintys išgirsti "Šilainių radijo" programą galės tai padaryti ne tik internetu, tačiau ir dviejose laikinose radijo stotelėse – 10:30 val. Šilainiuose, šalia skulptūros "Versmė" (vietinių pramintos "Drambliu", Šarkuvos g. 30) ir 16:00 val. Kauno Vinco Kudirkos viešosios bibliotekos Šilainių padalinyje (Baltų pr. 51). Šiose radijo stotelėse bus galima pamatyti, kaip gimsta ši unikali radijo programa ir gyvai patirti radijo pulsą.
Projekto sumanytojos: Samantha Lippett (JK / FI), menininkė ir kuratorė, dirbanti alternatyvaus švietimo, bendradarbiavimo ir bendruomenės kūrimo projektuose, Julija Lečaitė, garso kuratorė ir bendruomenės radijo ekspertė, bei Šilainiuose gyvenanti menininkė ir kultūros prodiuserė Evelina Šimkutė, dirbanti su socialiai angažuotu menu ir kūrybine vietokūros praktika.
"Šilainių radijas" jau gruodžio 3 d. per "Palangos gatvės radiją" interneto bangomis: www.palanga.live
Jums patogiu metu penkias "Šilainių radijo" programas galima paklausyti Palanga Street Radio archyve, Soundcloud, Mixcoud platformose bei apsilankius Kauno Vinco Kudirkos viešosios bibliotekos Šilainių padalinyje.
Kelios projekto akimirkos:
Fotografijų autorius Vytautas Paplauskas
Šilainių radijas – sukurkime radijo programą kartu!
——-
Projektą finansavo: Lietuvos kultūros taryba
Organizatoriai: Šilainiai Project ir Palanga Street Radio
Partneris: Kauno Vinco Kudirkos viešoji biblioteka
Šilainių radijas. Ką šlama betoninis šilas?
2021 m. gruodžio 11 d.
Straipsnio autorius: Julija Selezniova
"Šilainiai project" jau šešis metus viename iš jauniausių sovietmečiu statytų Kauno mikrorajonų – Šilainiuose, veikianti iniciatyva. Šio projekto iniciatorės, menininkės ir prodiuserės Evelinos Šimkutės žiniasklaidai duodamuose interviu apie "Šilainiai project" pradžią visad paminimos (bent) dvi priežastys, lėmusios pasirinkimą veikti gimtajame mikrorajone. Pirmoji – didžiulė meilė ir trauka Šilainiams, neapleidusi jos išvykus gyventi į Jungtinę Karalystę, antroji – susirūpinimas, kad mikrorajono atmintis gali būti nesurinkta, neišsaugota. Šis susirūpinimas menininkei kilo po apsilankymo Lietuvos centriniame valstybės archyve, kur ji rado vos kelias Šilainių nuotraukas, bylojančias mikrorajono pradžią. Tai tapo stimulu aktyviai prisidėti prie Šilainių atminties išsaugojimo ir iškelti neužrašytas, pačių šilainiškių menamas, istorijas. Ir vis tik "Šilainiai project" neapsiriboja istorijų iškėlimu – tai stipriai į bendruomenę orientuota iniciatyva, siekianti burti, aktyvinti tarpusavio ryšius bei stiprinti vietos gyventojų ryšį ir su pačiais Šilainiais. Vienas iš būdų pasiekti visus anksčiau išvardintus tikslus yra ir gruodžio 3 dieną radijo eterį pasiekęs "Šilainių radijas".
"Šilainių radijo", kuris pranešimuose spaudai pristatytas kaip "platforma, skirta švęsti gyvenimą Šilainiuose", sumanytojos yra menininkė ir kuratorė Samantha Lippett iš Jungtinės Karalystės, garso kuratorė ir bendruomenės radijo ekspertė Julija Lečaitė bei "Šilainiai project" įkūrėja Evelina Šimkutė. Radijo programa sukurta per mėnesį, bendradarbiaujant su mikrorajono gyventojais: paskelbus atvirą kvietimą vietinių idėjoms, organizuojant garso dirbtuves, nedidelius bendruomenės susibūrimus ir pasivaikščiojimus po Šilainius, kuriant įvietintus audio įrašus. "Šilainių radijas" susidarė iš programų: "Pasivaikščiojimas", "Pupelių sriuba", "Vietinių muzika", "Atminties takais", "Giedriaus Slavinsko muzikinė kompozicija" ir gyvos transliacijos iš Kauno Vinco Kudirkos viešosios bibliotekos Šilainių padalinio. Klausantis "Šilainių radijo" programos nuosekliai galima pastebėti, jog pirmoji programa "Pasivaikščiojimas" savyje talpina temas ir idėjas, atsikartojančias ar plačiau išplėtotas ir kitose programose skirtingų žmonių lūpomis. Tai leidžia atpažinti vyraujančius naratyvus apie mikrorajoną, geriau suprasti šilainiškių patirtis.
Turint omenyje pastaraisiais metais pastebimą bendruomeninių radijų klestėjimo ir kūrimosi metą, prieš pradedant "Šilainių radijo" programos turinio apžvalgą būtina atkreipti dėmesį į tai, kad "Šilainių radijas" (bent kol kas) nėra atskira bendruomeninio radijo stotis – parengta programa buvo transliuota bendradarbiaujant su internetine radijo stotimi "Palanga Street Radio" ir (bent kol kas) yra baigtinė. Vis tik sumanytojų refleksijose paskutinės programos metu, galima išgirsti apie norą tęsti šį projektą, tad galbūt ilgainiui radijo programos iš šio mikrorajono ims sklisti reguliariai.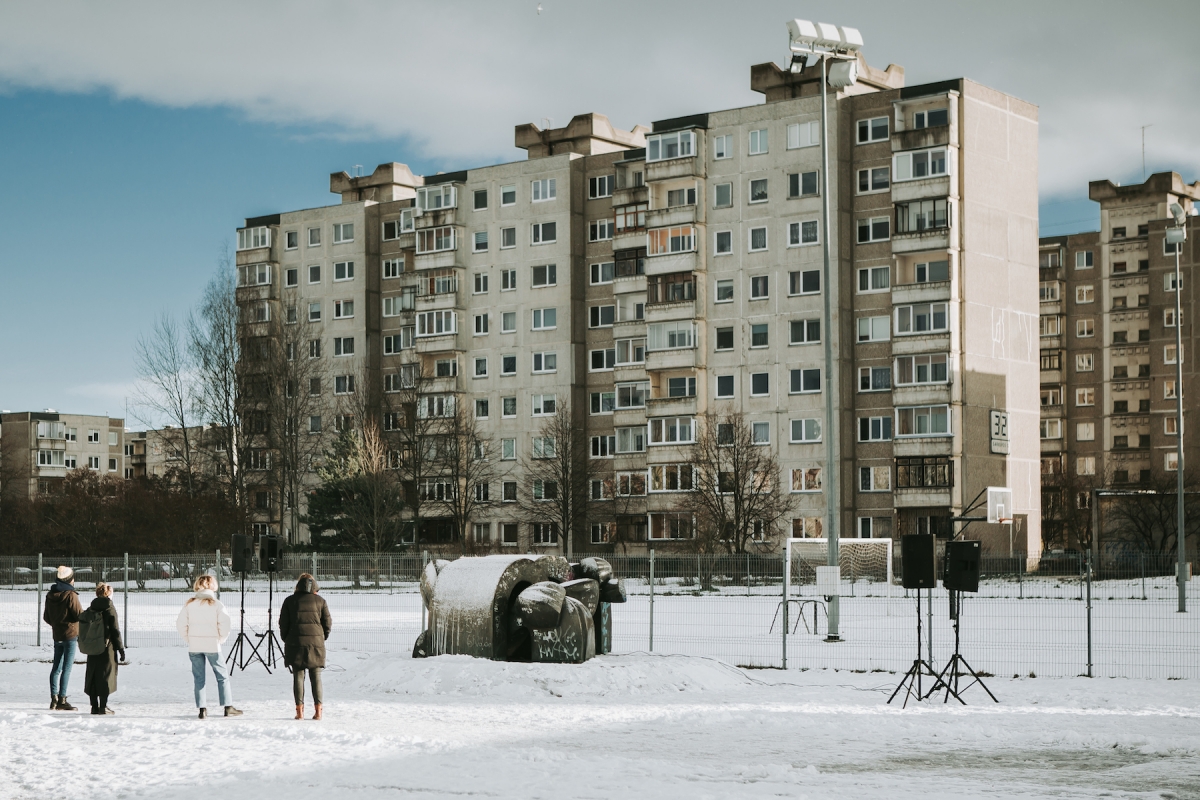 Laikina "Šilainių radijo" stotelė Šilainiuose, šalia Virginijos Babušytės-Venckūnienės skulptūros "Versmė" (Šarkuvos g. 30).
Šilainių radijas: kasdienybė
Viena įžanginių minčių žymiajame miesto planavimo teoretiko Kevino Lyncho veikale "Miesto įvaizdis" buvo apie tai, kad kiekviena aplinka yra daugiau nei galime pamatyti ar išgirsti – ją reikia patirti santykyje su vietos kontekstu ir praeities išgyvenimais[1]. Šiuo pagrindu konstruota ir radijo programa, kuria per pasakojimus ir lauko įrašus iš Šilainių klausytojams mintyse tarsi bandoma nupiešti mikrorajono žemėlapį, jame smaigstyti smeigtukus, žyminčius šilainiškiams reikšmingas vietas. Kai kurios iš jų vertingos dėl savo istorinės reikšmės ir mitų, žadinančių vaizduotę, kitos – sietinos su asmeninėmis istorijomis, kurios yra gana universalios: tai kalniukas, nuo kurio čiaužyta žiemą, vidiniai kiemai ir kiemo pievelė, ant kurios patiestų pledų vaikai įsikurdavo ilgiems žaidimams, ar statybvietės, kuriose leisdavo laiką jaunimas. Daugelis šių vietų atmenamos su lengva nostalgija, o vaikystės ar jaunystės, praleistos Šilainių kiemuose, atmintis atrodo kolektyvi. "Šilainių radijo" programoje išskirta keletas segmentų, skirtų individualiems interviu, kuriuose girdime skulptorę Virginiją Babušytę-Venckūnienę, šilainiškį Mindaugą, senjorų klubo "Berželis" pirmininkę Antaniną Birutę Liutvinskienę. Visais kitais atvejais šilainiškių asmeninės istorijos skleidėsi fragmentuotai įsipindamos į bendrus pašnekovų pokalbius, tačiau netapdamos pagrindine pasakojimų ašimi. Nors pokalbiuose būta ir jautrių momentų, pasidalinimų apie neišsipildžiusius lūkesčius ar svajones, sunkų senelių gyvenimą, programoje dominuoja šviesi ir viltinga nuotaika, kurią sukurti padeda taikliai parinktos muzikinės kompozicijos, mikrorajono gyventojų pokštai ir juokas.
Audio pasivaikščiojimų metu galime išgirsti kaip mikrorajono viešosios erdvės yra įveiklinamos kasdienybėje. Viena išryškėjančių pasakojimo apie šilainiškių laisvalaikį linijų – polinkis sportuoti, užsiimti aktyvia veikla. Net ir vienas pirmųjų garsų, kuriuos išgirstame prasidėjus Šilainių radijo transliacijai yra caksintys sportbačiai ir krepšinį (o gal jūs girdite kitą komandinį žaidimą?) žaidžiančių vyriškių šūksmai. Iš pasakojimų sužinome, jog vietos gyventojai mėgsta burtis gryname ore, naudojasi kiemuose įrengtomis sporto aikštelėmis, dviračių takais, ypatingai mėgsta vietos stadioną ir Santarvės parką. Senjorė Antanina vaikščiodama po parką mums papasakoja, jog čia švenčiamos Joninės ir Mindaugo karūnavimo diena, taip pat nuveda prie vietos, kurioje šventiniu laikotarpiu stovi Kalėdinė eglutė. Visa tai priartina prie mikrorajono gyventojų kasdienybės. Pokalbiams įsibėgėjant galime užčiuopti ir Šilainiams aktualias problemas. Viena iš jų – mikrorajone "dygstančios tvoros", atpažįstama ir kituose Lietuvos miestuose bei kelianti gyventojų pasipiktinimą, kadangi teritorijas atitvėrus tvoromis perkertami natūraliai susiformavę žmonių kasdieniai maršrutai, o šalia esančios erdvės dėl tvorų praranda jaukumą.
Viena iš problemiškų vietų, į kurią siekta atkreipti dėmesį radijo programa "Pasivaikščiojimas", yra erdvė Šarkuvos gatvėje, netoli Kauno Jono Basanavičiaus ir Kauno Juozo Grušo gimnazijų, kur 1989 metais buvo pastatyta Virginijos Babušytės-Venckūnienės sukurta skulptūra "Versmė" (1988). Iš pokalbio su menininke sužinome, kad skulptūra buvo skirta fontanui, tad ir jos idėja bei plastika siejasi su trykštančia gyvybe – iš arkos besiveržiančiais žolynais. Kadangi bronzos liejimo galimybės Lietuvoje tuo metu dar nebuvo, iš vaško modelio atlieti "Versmę" skulptorė vyko į Estiją. Vis tik galiausiai dekoratyvinė skulptūra atsidūrė ne fontane, o ant pjedestalo, kuris šiuo metu sutrūkinėjęs, o prieš tris dešimtmečius buvusi atvira skulptūrai skirta erdvė, yra suardyta mokyklos stadioną atitveriančios tvoros. Monumentali, vietinių vaikų mėgstama ir "Drambliu" praminta, skulptūra yra apleista ir apipaišyta. Pokalbyje apie "Versmę" justi menininkės nusivylimas dėl to, kad miesto valdžia nereaguoja į prašymus pasirūpinti jos kūriniu. Spaudoje galima rasti ir Kauno miesto savivaldybės Kultūros paveldo skyriaus poziciją "Versmės" apleistumo klausimu – esą skulptūros valymas būtų tik laikinas problemos sprendimas, o tinkama išeitimi galėtų tapti šio monumentalaus kūrinio perkėlimas į kitą erdvę.[2] Nepaisant to, nei skulptūros autorė, nei vietos bendruomenė su šia pozicija nesutinka – "Versmė" yra tapusi neatsiejama vietos identiteto dalimi. Tad pokalbio su skulptore Virginija Babušyte-Venckūniene metu svajota, jog ateityje "Versmė" bus nuvalyta ir iš naujo nupatinuota, o skulptūros apsuptis bus performuota taip, kad būtų galima prisėsti ant suolelių ir patirti vieną iš nedaugelio profesionaliojo meno kūrinių esančių mikrorajone, jaukioje ir kviečiančioje aplinkoje.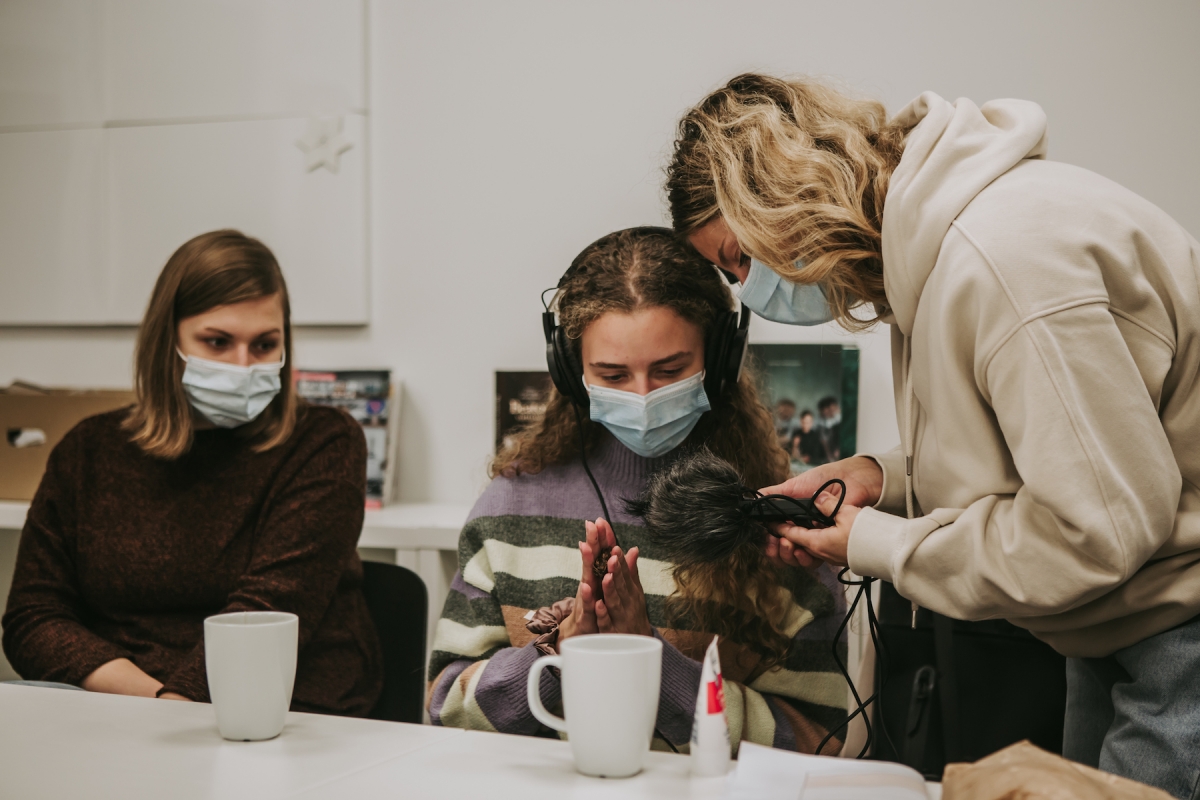 "Šilainių radijo" projektas. Vytauto Paplausko nuotr.
Šilainių radijas: istoriniai faktai ir žaidimas mitais
Be jau minėtų pokalbių apie kasdienybę Šilainiuose, radijo programoje daug dėmesio skirta Šilainių istoriniam kontekstui atskleisti. Pirmajame radijo programos pasivaikščiojime Evelina Šimkutė pasakojo apie architekto Sauliaus Lukošio, projektavusio Šilainius, drąsią humanistinę viziją, atskirti žmones, gyvenamuosius namus ir kiemus nuo transporto srautų ir taip suteikti mikrorajono gyventojams kokybiškesnį gyvenimą mieste. Nors dėl lėšų stygiaus architekto utopinių idėjų įgyvendinti iki galo nepavyko, pirmieji ir antrieji Šilainiai gali pasidžiaugti žaliomis užuovėjomis, mažesne garso tarša. Programose "Pasivaikščiojimas" ir "Atminties takais" atsikartoja pasvarstymai apie vaizduotę žadinančius gatvių pavadinimus, besisiejančius su baltų gentimis, stichijomis, išnykusių kaimų vardais, pajūriu. Nors sprendimas Šilainių identitetą susieti su jūra buvo praktinis, t. y. padiktuotas senų kelių per Šilainius vedančių į pajūrį, skatinama pagalvoti apie šio mikrorajono gatvių sąskambių potencialą mitams kurti. Tiesa, mėginimų pažaisti su vietos pavadinimais Šilainiuose jau būta – 2017 metais surengti giminingi renginiai "Šilainiai [Paris] Project" ir "Šilainiai [Fortas] Project", kuriais pristatytas mitas, įtraukiantis jau minėtus gatvių pavadinimus, taip pat prancūzų istorijos ženklus (pavyzdžiui dar vieną Paryžių Kaune!) Šilainiuose. Jais kviesta keisti žvilgsnį į sovietinius daugiabučius ir kaimynystėje esantį karinį paveldą, įveiklinti šias erdves kūrybinėms reikmėms.[3] Tad Šilainių radijo eteris tapo dar viena proga iškelti jau plėtotos mitologijos nuotrupas į viešąją erdvę.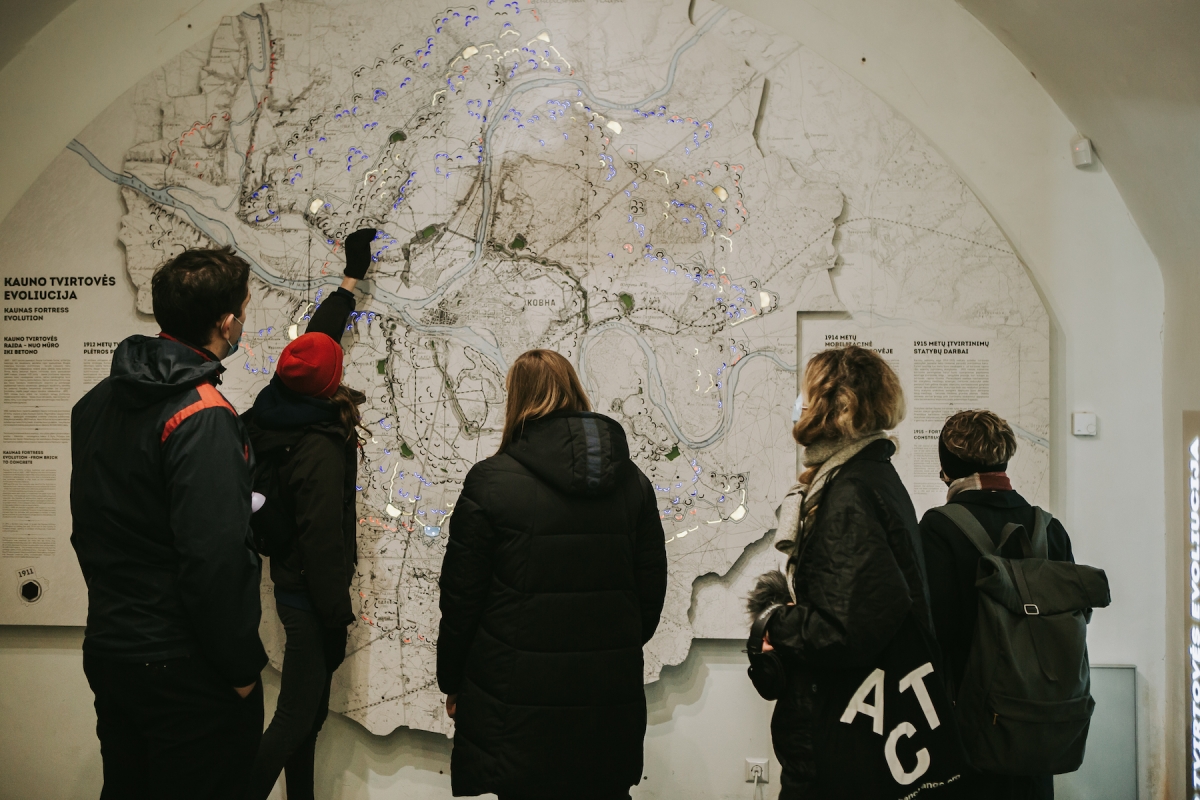 "Šilainių radijo" projektas. Vytauto Paplausko nuotr.
Ypatingai daug istorinių faktų galime išgirsti programoje "Atminties takais", kurioje keliaujama nuo Linkuvos dvaro iki IX forto. Programa prasideda "Šilainių radijo" kūrybinei grupei automobiliu važiuojant į Linkuvos dvarą. Kelionės metu Evelina Šimkutė pasakoja apie tai, kaip sovietmečiu vietos gyventojai nuo sunaikinimo išgelbėjo Mergelės Marijos skulptūrą, naktį pernešdami ją į Linkuvos kapines. Dvaro teritorijoje pasakojantieji nejučia išsiskiria į dvi grupes, girdime paraleliai vykstančius pokalbius apie Napoleono laikus bei Linkuvos dvare laikinai įsteigtą prancūzų karių štabą ir apie sesers M. Leonardos Šmulkštytės suprojektuotą ir įgyvendintą Kristaus Karaliaus skulptūrinę kompoziciją, dedikuotą 550-ąjai krikščionybės Lietuvoje sukakčiai. Ši programa itin paveiki savo garsine forma – su mikrofonu rankose pakaitomis keliaujant nuo vienos besišnekančių žmonių grupės iki kitos, sukuriamas pojūtis, jog tampame ekskursijos dalyviais, besilaikančiais kintančio tempo – paėjėję su viena grupe nuo jos atsiliekame ir prisijungiame prie antrosios. Pokalbiams vėl susijungus į vieną pagrindiniu pasakotoju tampa Kauno tvirtovės parko vadovas Egidijus Bagdonas. Jis dalinasi žiniomis apie VIII ir IX fortus, pasakoja apie žmonių susidomėjimą tvirtovės tuneliais ir spėliones, kokio ilgio yra po Kaunu esantis požemių tinklas. Vėliau pasakojimą perima IX forto gidė. Galiausiai jos balsas ima tolti, tarsi užsižiopsoję į kurį nors iš ekspozicijos eksponatų būtume atsilikę nuo grupės ir mėgintume ją prisivyti spartesniu žingsniu. Forto tuneliais aidi žingsniai, pasigirsta girgždesys… epizodas baigiasi muzika.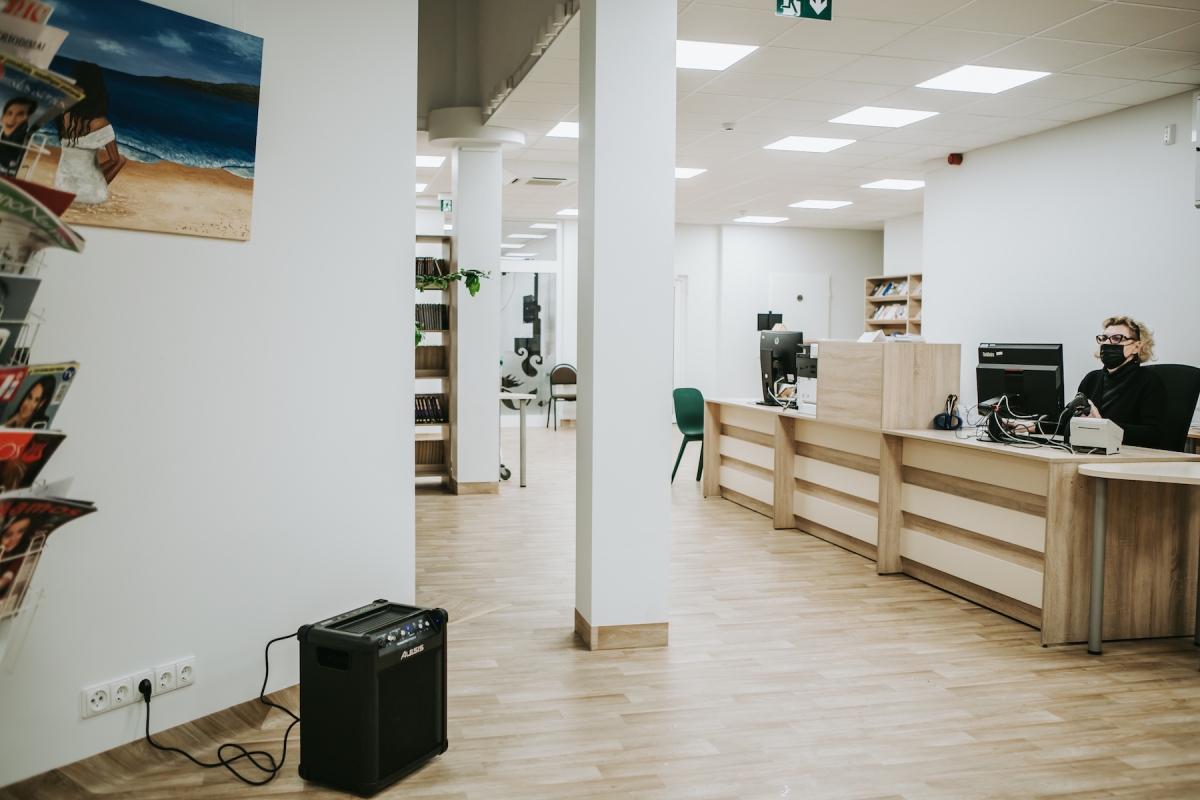 Laikina "Šilainių radijo" stotelė Šilainiuose, Kauno Vinco Kudirkos viešosios bibliotekos Šilainių padalinyje. Vytauto Paplausko nuotrauka
"Šilainių radijo" programa sukėlė fizinio pasisvečiavimo Šilainiuose pojūtį. Programos turinys skambėjo organiškai ir nesurežisuotai – net segmentuose, kuriuose dalintasi faktine informacija ar užduoti iš anksto paruošti klausimai, buvo galima pajusti natūralius ekskursus, nulemtus netikėtai iškilusio, lankomos aplinkos iššaukto, prisiminimo, ar net lengvą pašnekovų pasimetimą. Tikrumo jausmą papildė ir programose "Pupelių sriuba" bei gyvos transliacijos iš Kauno Vinco Kudirkos viešosios bibliotekos Šilainių padalinio rišamąja medžiaga tapęs maistas, leidęs kūrybinei grupei atsipalaiduoti ir leistis į neformalius pašnekesius. Tuo tarpu klausytojai visos radijo programos kontekste turėjo du atokvėpius nuo žodinės informacijos: klausydami mikrorajono gyventojų klausomos muzikos selekcijos pavadinimu "Vietinių muzika" ir programoje, kurioje skambėjo šilainiškio Giedriaus Slavinsko kūryba. Siekiant sukurti didesnę įvairovę programoje Šilainiams dedikuotos muzikos ar garso meno programos, garsinės ekskursijos, kuriose išvengiama žodžių, galėtų būti viena iš krypčių, kuriose "Šilainių radijas" ateityje galėtų paeksperimentuoti.
O ką išsineš kiekvienas, perklausęs drauge su mikrorajono gyventojais rengtą programą ar bent jos dalį? Žinau, kad man Šilainiai nuo šiol asocijuosis su betoniniu šilu pakeliui į pajūrį, kurio pamatuose – humanistinė idėja.
"Šilainių radiją" išgirsti galima "Palanga Street Radio" archyve, Soundcloud ir Mixcloud platformose.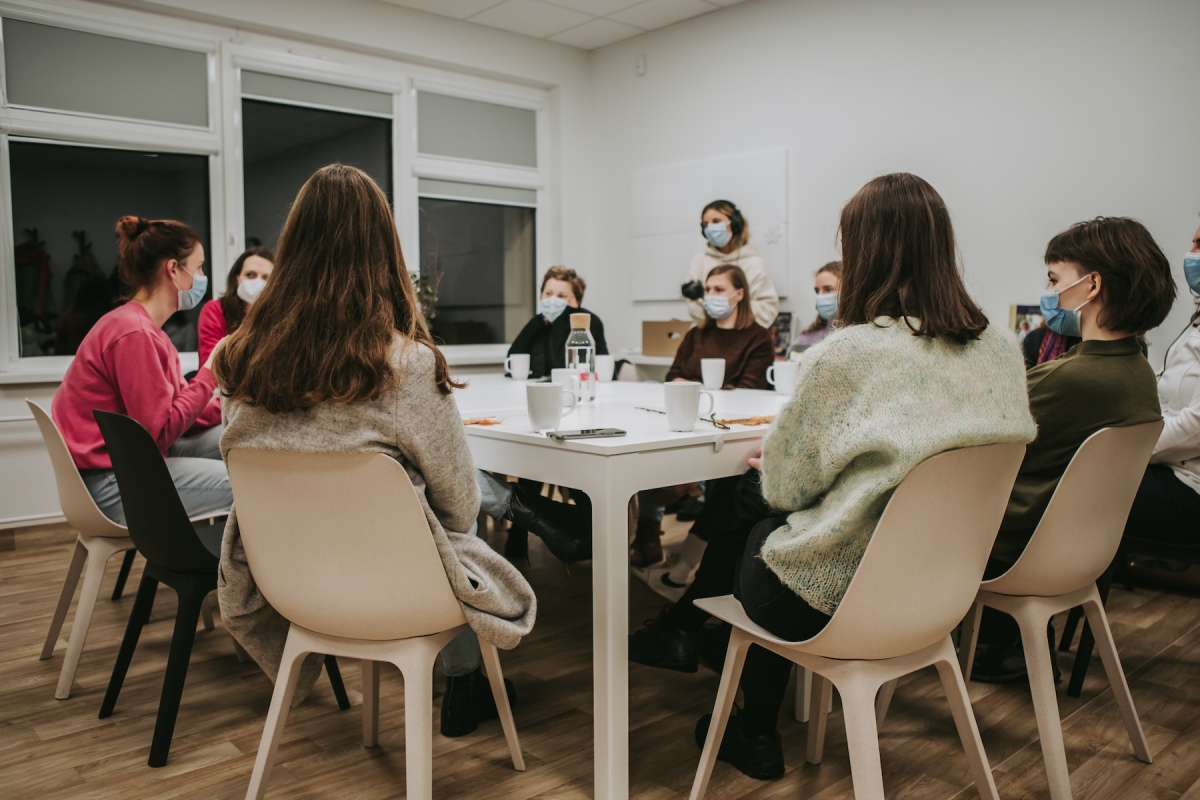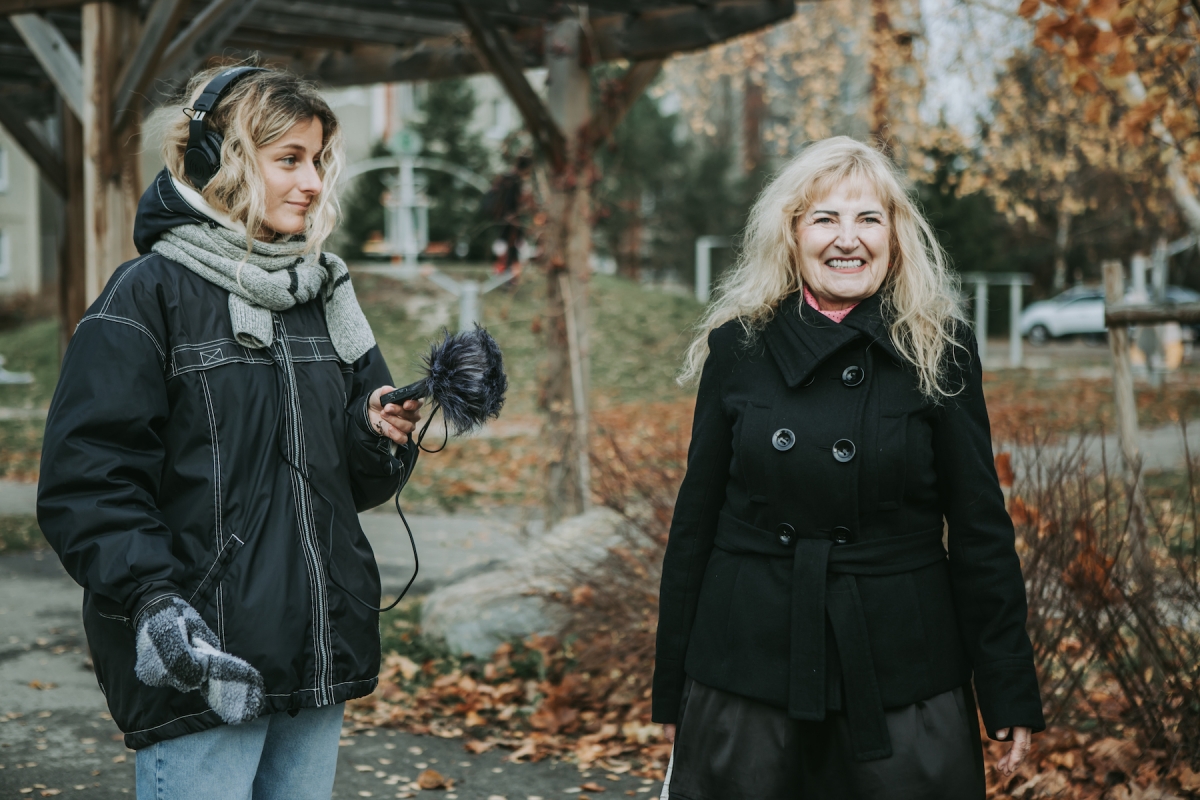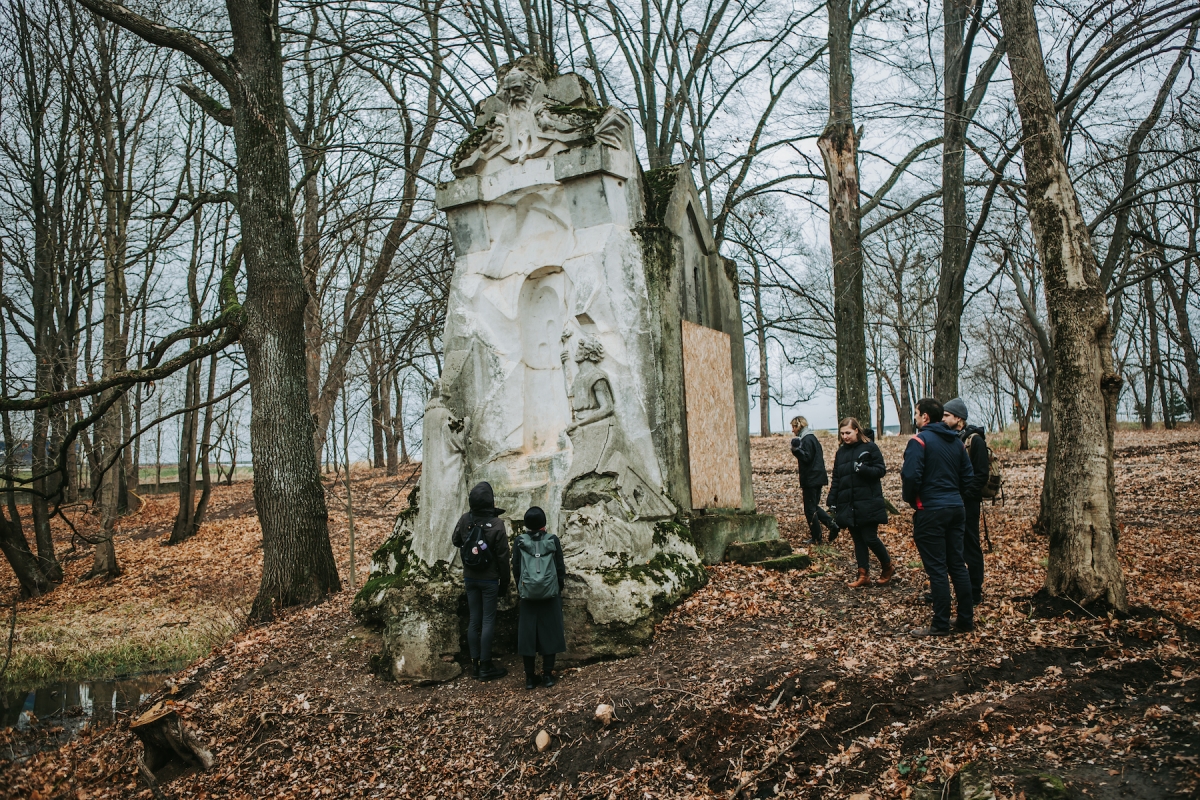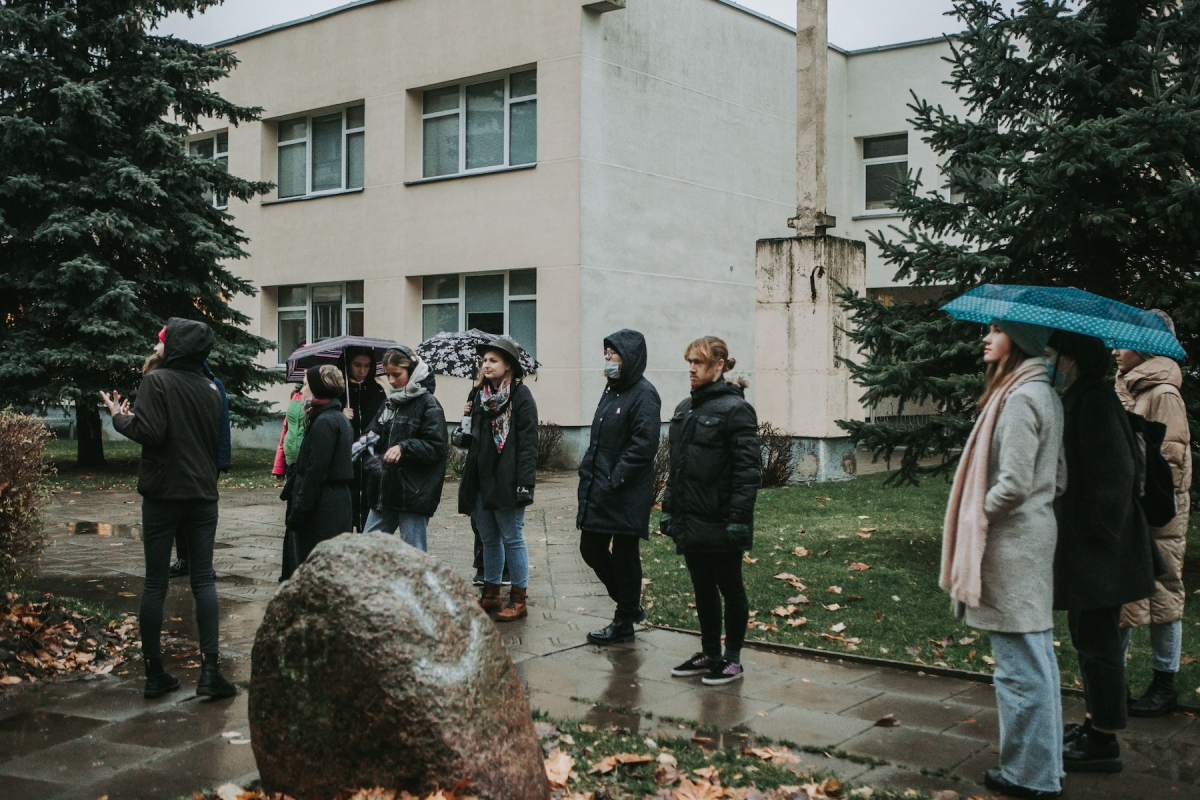 "Šilainių radijo" projektas. Vytauto Paplausko nuotraukos
[1] Lynch, Kevin. The Image of The City, 1960. The MIT Press
[2] Šileikė, Edita. Menininkai pasigenda pagarbos: senosios skulptūros – pamirštos ir nereikalingos? In: Kauno diena. 2019 kovo 23. Prieiga: https://kauno.diena.lt/naujienos/kaunas/miesto-pulsas/menininkai-pasigenda-pagarbos-kauno-skulpturos-pamirstos-ir-nereikalingos-906455
[3] Su "Šilainiai [Paris] Project" ir "Šilainiai [Fortas] Project" idėjomis galima susipažinti čia: https://silainiaiproject.com/2017/08/02/silainiai-paris-project/
---
ENGLISH
A celebration of the local neighbourhood and the people that live here. Recorded throughout November 2021, this project brought together fragments of Šilainiai's history and the voices of locals through excursions, workshops and personal recordings that capture its spirit.
3 rd December 2021 Šilainiai Project invited you to listen live from Šilainiai neighbourhood and online through Palanga Street Radio for an immersive day of sound made for and in collaboration with local residents.
Curated by Samantha Lippett and Julija Lečaitė.
Project managed by Urtė Grigaliūnaitė and Evelina Šimkutė.
Special thanks to all those who participated and shared their experiences and stories of the Šilainiai neighbourhood and the Kaunas Vincas Kudirka Public Library for hosting us.
Silainiai Radio is supported by Lithuanian Council for Culture.
10.30 A STROLL AROUND @ ŠILAINIAI RADIOLate autumn morning walk around the Šilainiai neighbourhood with an instruction to listen and notice. Between those present, everyday stories of the local unfold – both of lives lived and the present moment. When we return to where we began, what is locally known as the 'elephant' is introduced; a public sculpture made by Virginija Babušytė-Venckūnienė in 1989. Her words from a recent interview with Silainiai Project founder, Evelina Simkute end our journey.
11.30 PUPELIŲ SRIUBA @ ŠILAINIAI RADIO
Recipe by Grandmother Jadvyga:
– 1 carrot
– 1 onion
– 1 garlic clove
– 500g potatoes
– 500g
– 500g white beans
– Seasoning and pepper
A hearty lunch of bean soup coupled with talkative guests and sonic accompaniment hosted by Mindaugas. With warm bellies, we venture out for a nostalgic walk of stories about Grandmother Jadvyga, who spent her life in here.
12.30 LOCALS SELECTING @ ŠILAINIAI RADIO Šilainiai locals are up for sharing their own sounds and selections – music is what keeps us here and around – a selection of and for each and everyone one.
2.00 MEMORY PALACE @ ŠILAINIAI RADIO Antanina Birutė Liutvinskienė shares the songs and story of Kaunas Senior Club – one of the most active groups in Silainiai. Her voice leads us on a walk of local appreciation and into a historic journey by car to Linkuva Manor House and the 9th Fort (Kaunas Fortress Park) – two significant sites in Silainiai's history.
3.00 MIX BY GIEDRIUS SLAVINSKAS @ ŠILAINIAI RADIO A reflection, a feel or an improvised experience of a person who is in and was around. Not that comfortable nor easy – it is here.Mix that is honest and dedicated to Šilainiai from one's perspective.
4.00 LIVE FROM ŠILAINIAI KAUNAS VINCAS KUDIRKA PUBLIC LIBRARY @ ŠILAINIAI RADIO A conversation from Šilainiai's public library about the making of Šilainiai Radio.
Linten now on Soundcoud or Palanga Street Radio archive or on Mixcloud or visit Kaunas Vincas Kudirka Public Library Šilainiai department.
Šilainiai radio. What are concrete pine barrens rustling about? 
Article by Julija Selezniova 
"Šilainiai project" is a six-year-long ongoing initiative in one of the youngest microdistricts built in Kaunas during the Soviet occupation, called Šilainiai. In the interviews about the beginning of the "Šilainiai project", its initiator, artist and producer, Evelina Šimkutė, always mentions (at least) two reasons that determined the choice to launch the project in the neighbourhood she grew up in. The first reason is her love and attraction to Šilainiai, which did not abandon her even when she lived in the United Kingdom. The second one is her concern that the memory of the microdistrict may not be collected. This concern arose after the artist visited the Lithuanian Central State Archives, where she found only a few photos of Šilainiai, in which the beginning of the district has been captured. This became the stimulus to actively contribute to preserving the memory of Šilainiai, bringing up its residents' unwritten stories. And yet "Šilainiai project" is not limited to bringing up the stories – it is a community-oriented initiative that seeks to build, activate and strengthen the relationship between the locals and Šilainiai microdistrict itself. One of the ways to achieve the goals mentioned above is the "Šilainiai Radio" project, which reached the radio air on the 3rd of December.
In the press releases, "Šilainiai radio" was introduced as "a platform intended to celebrate living in Šilainiai". The conceivers of the project are the artist and curator Samantha Lippett from the United Kingdom, sound curator and community radio expert Julija Lečaitė and Evelina Šimkutė, who is the founder of the "Šilainiai project" itself. The radio program was created in a month by cooperating with the residents of the microdistrict and organizing open calls for ideas of the locals, sound workshops, small community gatherings, walks around Šilainiai and field recordings. "Šilainiai radio" program consisted of the following programs: "Šilainiai Stroll", "Bean Soup", "Memory Palace", musical composition by Giedrius Slavinskas and a live stream from the Šilainiai branch of Kaunas Municipal Vincas Kudirka Public Library. While listening to the "Šilainiai Radio" program consistently, one can notice that the first program, "Šilainiai Stroll", contains topics and ideas that are later repeated or developed more widely in the following programs by different people. That allows us to recognize the dominant narratives about the microdistrict and better understand the experiences of Šilainiai residents.
Given the time of prosperity and development of the community radios in recent years, before reviewing the content of the "Šilainiai Radio" program, it should be noted that "Šilainiai Radio" is not (yet) a separate community radio station. It was broadcasted on "Palanga Street Radio" and is (as of now) finite. Still, during the last program, in the reflections of the conceivers, one can hear about the wish to continue this project, so radio programs from this microdistrict may start to air regularly in the future.
Šilainiai radio: everyday life
One of the introductory thoughts in the famous book "The Image of the City" by urban planner Kevin Lynch was that every environment is more than one can see or hear – it needs to be experienced with the local context and past experiences. It seems that this basis constructed the radio program – it almost tries to draw a map of the microdistrict in the listeners' minds through stories and field recordings from Šilainiai. Some of the sites are valuable because of the historical significance and the myths that awaken the imagination, while others are related to personal stories that are quite universal: the hill you could slide from during the wintertime, the courtyards where the children used to settle down on their blankets to play various games or the construction sites where the youth would gather to spend their time. Many of these sites are remembered with a slight nostalgia and the memory of childhood or youth days spent in the courtyards of Šilainiai seems to be collective. Several segments on the program of "Šilainiai Radio" have been singled out for individual interviews, in which we can hear a sculptor Virginija Babušytė-Venckūnienė, Šilainiai resident Mindaugas and Antanina Birutė Liutvinskienė, the chairwoman of the seniors' club "Berželis". In all other cases, the personal stories of the residents of Šilainiai spread in a fragmented way, intertwining the conversations but not becoming the main axis of the narratives heard. Although there were some sensitive moments in the conversations (like sharing about unfulfilled expectations or dreams, difficult life of grandparents), a bright and hopeful mood dominates the program, with the help of well-chosen musical compositions, jokes and laughter of the residents of the microdistrict.
By listening to the audio walks, we can learn about how the public spaces of the microdistrict are enabled daily. One of the emerging narratives about the leisure of Šilainiai residents is their tendency to engage in active activities and play sports. One of the first sounds that we hear when the broadcast of "Šilainiai radio" starts is the tickling of sneakers and the shouting of men playing basketball (unless you hear another team game?). We learn from the conversations that the locals like to gather in the fresh air. They use the sports grounds in their courtyards bike paths and especially enjoy the local stadium and Santarvė Park. While walking in the park, senior Antanina tells us that Saint John's Eve and the coronation day of Mindaugas, the only King of Lithuania, is celebrated here, and leads us to a place where the Christmas tree stands during the festive period. All of this brings the everyday life of the residents of the microdistrict closer to us. As the conversation accelerates, we can also capture the issues relevant to Šilainiai. One of them is that fences keep arising in the microdistrict. This problem is also recognizable in other Lithuanian cities. It causes resentment among the people since fencing cuts through their naturally-formed daily routes and negatively affects the cosiness of the nearby spaces.
The radio program "Šilainiai Stroll" aimed to pay attention to one of the problematic sites located in Šarkuvos Street, near Kaunas Jonas Basanavičius and Kaunas Juozas Grušas Gymnasiums, where the sculpture "Versmė" (1988) created by Virginija Babušytė-Venckūnienė was built in 1989. From the conversation with the artist, we learn that the sculpture was created for a fountain, so its idea and plasticity are related to the exuding of life – grasslands seem to erupt from the arch. Bronze casting was not available in Lithuania at that time, so the sculptor travelled to Estonia to cast "Versmė" from a wax model. And yet, the decorative sculpture ended up not in a fountain but on a cracked pedestal and the site that was open for it three decades ago is now disrupted by the fence of the school stadium nearby. The monumental sculpture, loved by the local children and called "Elephant" by them, is now abandoned and scribbled up. In the conversation about "Versmė", we sense the artists' disappointment by the city authorities, who do not respond to the request to take care of her work. The position of the Kaunas City Municipality Cultural Heritage Department on the issue of neglect of "Versmė" can be found in the press. It is stated that cleaning the sculpture would only temporarily solve the problem, and suggested moving this monumental work to another site would be a more suitable solution. Nevertheless, neither the author of the sculpture nor the local community agrees with this position, stating that "Versmė" has become an integral part of the local identity. And so, during the conversation with the sculptor Virginija Babušyte-Venckūnienė it was dreamed that "Versmė" would be cleaned and repatinated in the future, and the surroundings of the sculpture would be redesigned to cosy and inviting space where one could sit on the benches and experience one of the few professional works of art in the microdistrict.
Šilainiai radio: historical facts and playing with myths
In addition to the already mentioned conversations about everyday life in Šilainiai, the radio program pays a lot of attention to revealing the historical context of Šilainiai. Evelina Šimkutė spoke about the bold, humanistic vision of the architect Saulius Lukošis, who has designed Šilainiai, during the first walk of the radio program. The architect has dreamed of separating the people, residential houses and courtyards from traffic flow, thus providing a better quality of life in the city to the residents of the microdistrict. Although the utopian ideas of the architect could not be fully implemented, due to the lack of funds, the first and the second Šilainiai still enjoy green shelters and lesser pollution of sound. Contemplations about the names of streets related to the Baltic tribes, the elements, the names of extinct villages or the seaside that awakens the imagination are repeated in the programs "Šilainiai Stroll" and "Memory Palace". Although the decision to link the identity of Šilainiai to the sea was practical and dictated by the old roads leading through Šilainiai to the seaside, we are encouraged to consider the potential of the street names given, that are friendly for the creation of myths. It is worth mentioning that there have already been attempts to play with these site-related names in Šilainiai back in 2017. Back then, events "Šilainiai [Paris] Project" and "Šilainiai [Fort] Project" presented a myth that included the titles of already mentioned streets, as well as the signs of French history (for example, another Paris in Kaunas!) in Šilainiai. These events were an attempt to invite a change of approach towards the Soviet apartment buildings and the community's military heritage and provide these spaces with creative purposes. Thus, the broadcast of "Šilainiai radio" became another opportunity to bring fragments of the already developed mythology into the public eye.
We can hear a spate of historical facts in the "Memory Palace" program, where a trip from Linkuva manor to the IXth Fort is captured. The program starts with a creative group of "Šilainiai radio" driving to Linkuva manor. During the trip, Evelina Šimkutė talks about how the locals saved the sculpture of the Virgin Mary from destruction by transferring it to the Linkuva cemetery at night during the Soviet era. In the territory of the manor, the storytellers unintentionally divide into two groups, so we hear two parallel conversations. One conversation is about the times of Napoleon and the headquarters of the French soldiers that were temporarily established in the manor of Linkuva, and another one is about the sculptural composition of Christ the King that was designed and implemented by Sister M. Leonarda Šmulkštytė and dedicated to the 550th anniversary of Christianity in Lithuania. This program is especially effective in its sound form. While a microphone travels from one talking group to another, it creates the feeling that we are becoming participants in the tour at a changing pace, as if we lagged behind one group and joined the other. Egidijus Bagdonas, the manager of Kaunas Fortress Park, becomes the main narrator after the conversations reunite. He shares his knowledge about the VIIIth and IXth forts, tells us about people's curiosity regarding the tunnels of the fortress and speculations on the length of the underground network under Kaunas. A guide later takes over the story. Eventually, her voice began to fade away, as if we had lagged behind the group, and tried to catch up with her at a faster pace. The footsteps in the tunnels of the IXth fort echo, a squeak is heard… The episode ends with music.
The program of "Šilainiai Radio" created a feeling of physical presence in Šilainiai. The program's content sounded organic and not staged. Even in the segments where factual information was shared or the pre-prepared questions were asked, it was possible to feel natural deviations from the topic caused by unexpected memories awakened by surroundings or even sense the confusion of the people talking. The food supplemented the feeling of truthfulness and became a binding material in the programs "Bean Soup" and live broadcasts from the Šilainiai branch of the Kaunas Municipal Vincas Kudirka Public Library, allowing the creative group to relax and have informal conversations. Meanwhile, in the context of the whole radio program, the listeners had two respites from the oral information: the first program was titled "Local Music" and consisted of a selection of music enjoyed by the residents of the microdistrict and the second program that featured music by Giedrius Slavinskas from Šilainiai. Music or sound art programs dedicated to Šilainiai, sound tours that avoid words, could be one of the directions in which Šilainiai Radio could experiment in the future to create more diversity in the program.
After listening to the program (or at least a part of it) that was prepared with the microdistricts' residents, what will the listener obtain? I know that from now on, I will associate Šilainiai with a concrete pine barren that grows on the way to the seaside that has a foundation of a humanistic idea.
"Šilainiai Radio" can be found in the "Palanga Street Radio" archive, Soundcloud and Mixcloud platforms.